LED modules with integrated power-supply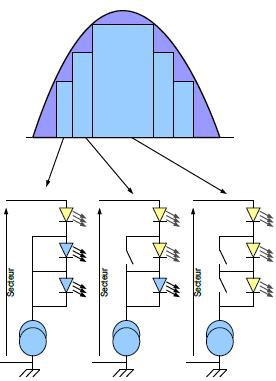 ACTiLED Lighting offers a full range of products supplied directly with 230V without external power supply.
This is primarily a technical innovative driver with sequential power supply which drives modules from 5W to 30W, with an unmatched integration.  
The technical advantage consists mainly of high efficiency system with a greater than 85% efficiency and a power factor greater than 0.92 with integrated PFC unit.
The driver is a constant current type providing a constant brightness of the system.
These systems have a lifetime equal to that of LEDs. No chemical capacitor is used.
Stability allows dimming of the LED module with 3-wire dimmers without flickering effect.
All modules are certified according to the standards, the lamps are CE certified.